Exchange Magazine Online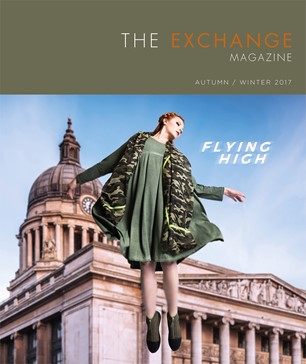 The Exchange AW17 Magazine Out Now
The Autumn/Winter edition of The Exchange Magazine is now out and free to pick up in the centre. It's also available to read in the extended, fully interactive digital edition, which can be accessed via the website or downloaded to mobile devices with The Exchange Magazine app for Apple, Android & Kindle.
In this issue, we catch up with acclaimed furniture retailer, sofa.com, who have recently opened in the arcade.
The store is the first in the region for the brand, and compliments The Exchange's other home retailers, Harvey Jones Kitchens and Castle Fine Art. Sofa.com are one of the UK's leading furniture companies, and the new showroom features not just sofas, but armchairs, footstools, beds, a dining range and an expanding home accessory collection.
Fashion is still at the heart of The Exchange of course, and our style pages once again reflect the new season's key looks from the centre's stores. We've also teamed up once more with Nottingham designer and stylist, Susi Henson, who'll be looking at the principal trends for AW17 in this edition's Trend Settings.
This issue's fashion shoot is really flying, as our models literally leap into the best of autumn style from around the centre in AW17's Exchange Edit.
Add to that, the latest beauty must-haves, accessories and gift ideas - perfect for some Christmas shopping inspiration - and there's sure to be something for everyone at The Exchange this season.
Speaking of Christmas…
If ever an excuse were needed to stock up the eponymous drinks cabinet, Christmas is surely it. Whilst there are options a-plenty, gin is certainly riding high in the charts at the moment. Once limited to Gordons, or Bombay Sapphire if you were feeling adventurous, recent years have seen a dizzying array of artisan alternatives come to market. Too much of a good thing? Chris Goodrum from Gauntleys thinks it may be, as he looks at the history of gin and its current direction, as well as highlighting some of the genuinely good choices to give you a littleGinspirationfor the festive season and beyond.
Salut!